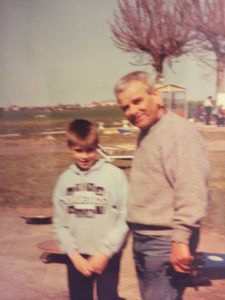 Cracker = Destructor
Crack is the fundamental concept of my brand. It means destruction: cracking something useless and give it new life.
"Crack" is the fundamental concept of my brand. It means destruction: cracking something useless and give it a new life.
What my grandpa taught me was to look at things from a different perspective before throwing them away. Each season is inspired by my memories. Good and bad, but without nostalgia. My experiences and the past used as the foundation to built the future create a frame. They determine the style and the influences of each collection.
Every time I show a new concept, that nonetheless speaks my language is something almost therapeutical, it makes me feel liberated. And since I'm a very calm person, apparently, it's through my performances that I protest and shout to the world how I really feel.
LITTLE DICTIONARY
PUNKINDNESS – in the world of today is more punk to say 'thank you' than 'fuck you'. This is Simon Cracker's philosophy. In a world where who shouts louder wins the truly disruptive elements today are authenticity and consciousness: aunties, hugs and laces that wrap up deliciously boring things. The 'destroy' and 'do it yourself' roots of punk are alive, but in a more conscious and kind way, even referencing the cuddly and tender Kawaii world and child-like graffiti.
GRAFFITICOUTURE – Simon Cracker does not only destroy but dirty as well what he finds boring, flat and dull. Because of this, years ago a series of garments covered in graffiti was born, like the walls of disfranchised and borderline areas in every city. Graffiti, with their temporarity and uniqueness become a spontaneous visual language that grows in an organic way to the point of becoming a one of a kind continuous pattern.
BROKENTAILORING – classical tailoring, made of skilled craftsmanship, high quality fabrics that stand the test of time and trends, is an essential Italian trademark. It's in this field that Simon Cracker applies his 'destroy and rebuild' process at its best. The tailor made suit, often forgotten in laundries, becomes a kind of Lego where nothing is what it seems: the leg of a pair of trousers becomes the back of a jacket, the end of a jacket becomes the flounce of a skirt. Everything can happen to a well tailored suit.
ENDOFTHEDAY – at the end of a working day, even though the raw material is recycled, Simon Cracker finds himself producing waste. The real challenge starts here: not to betray the brand's philosophy, even the waste becomes the material to create other garments. It is not a random work, sometimes it's even more complicate and demanding. Sometimes these clothes are chaotic but always faithful to the collection's language, and they give more consistency to the 'nothing is thrown away' message.
CHAOSBRANDING – today the 'cobranding' is a winning formula: one part put craftsmanship, the other creativity and very often the result is winning. The dark side is that this strategy today is abused, giving life to soulless products, with low value and high price. Simon Cracker follows the chaos theory, giving life to unique and unlikely cobrandings, always linked to the brand's DNA. A sportswear garment assembled with pieces of Nike, Adidas and Lotto, a tailored garment fusing Valentino, Brioni and Armani. The results are little wearable Frankensteins, full of brands but with a higher, one of a kind value.